Ms. Rotondi is an archival film, photo, network news, headlines and articles researcher with 30+ years of experience. Ms. Rotondi believes at the heart of any successful documentary is solid research.
Rosemary works with local, nationwide and international archives. Her wide range of experience includes working as researcher on the documentaries:

ATTICA, 2022 Academy Award nominee for Best Documentary Picture, by Stanley Nelson (2021), BECOMING COUSTEAU by Liz Garbus (2021), RECORDER: The Marion Stokes Project (2019), OUR NIXON (2013), TEENAGE (2013), RISK (2017), BOSS: The Black Experience in Business (2019), DRUNK STONED BRILLIANT DEAD (2016), MAKING THE BOYS (2011), and Academy Award-nominated documentaries REGRET TO INFORM(1999), INSIDE JOB (2010) and CITIZENFOUR (2014) among others. INSIDE JOB by Charles Ferguson was awarded an Academy Award for Best Documentary Feature in 2011. CITIZENFOUR by Laura Poitras was awarded an Academy Award for Best Documentary in 2015.
Ms. Rotondi was nominated as 2022 Researcher of the Year by FOCAL International for Stanley Nelson and Traci A. Curry's ATTICA.
She also co-lectured the Jane Mercer Memorial Lecture on October 27, 2022, with filmmaker Stanley Nelson, who directed ATTICA.

focalint.org/news-and-events/events/the-jane-mercer-memorial-lecture-in-conversation-with-stanley-nelson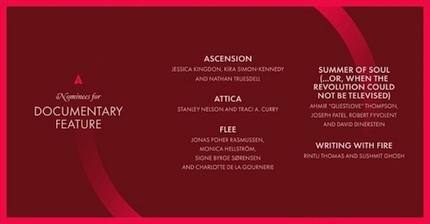 "The archival footage is the foundation of the film so before we even figured out what story we were going to tell, we started doing archival research and that process was led by an extraordinary researcher named Rosemary Rotondi and she worked with a team of researchers in Washington DC, Germany and England. And basically, we gave her a vast, expansive list of topics when we started working together and she returned an incredible amount of footage. From there, it gave us a sense of the scope of what we could cover - what periods we could cover, what storylines that were yielding results and then would refine that list and go further and get more material."

Matt Wolf, director of TEENAGE,
Eye for Film, January 31, 2014 interview

"The archival riches, as well, cannot be overestimated
(crack New York-based archival researcher,
Rosemary Rotondi, really outdoes herself)."

BERLINALE '10 WRAP-UP', a 2010 festival review

"Assiduous research ... also unearths some
amazing archival material."

The Village Voice, March 9, 2011 issue

"I also worked very closely with our chief archival researcher,
Rosemary Rotondi, who is first rate."

Crayton Robey, in an interview with
Nick Orlando's column, TalkinBroadway.com


UPCOMING SCREENINGS
GUMBO COALITION
Archival researcher for new feature documentary film by Barbara Kopple, premiering in DOCNYC (Saturday, November 12th and Sunday, November 13th, 2022).
docnyc.net/film/gumbo-coalition/
ATTICA
Stanley Nelson examines the largest prison uprising in US history, conducting dozens of new interviews with inmates, journalists, and other witnesses. ATTICA was a nominee for the 2022 Academy Award Best Documentary Feature. Rosemary Rotondi was also a nominee for the 2022 Researcher of the Year by FOCAL International Awards. SHOWTIME Network airing started on November 6, 2021, and is also available to rent on various platforms such as Amazon.

Attica Official Trailer
nytimes.com/2021/10/28/movies/attica-review.html6

variety.com/2021/film/reviews/attica-review-stanley-nelson
theguardian.com/film/2021/nov/01/attica-prison-riot


[ See Resume ] [ View Highlights of Credits ]